In thirty-three states, the average cost of full-time, in-center care for one child under age four has eclipsed that of in-state public college tuition.*
Sixty-five percent of children under age six have two working parents in America.*
On any given day, about twelve million children under the age of five will need a safe place to go and someone loving to care for them.*
Early education is one of the worst-paying jobs in the United States.*
Struck by the hand-painted graphics, inventive names and pop culture characters of childcare centers in Milwaukee, Wisconsin, we began the Watch Me Grow project in 2009. The colorful messages on these storefront exteriors are an amalgam of advertising, academic aspiration, incentives, faith-based ethos and cartoon iconography, creating a lively mask over childcare realities.
Shadows, blinds and curtains, the reflections of the neighborhood and of ourselves are compressed in our photographs. We observe the fragmented surfaces and consider what can and cannot be seen as a framework toward understanding.
For families across the country, childcare is a necessity and a financial burden. While initiatives and subsidies promote the promise of care, there is not adequate access to affordable, available and quality services. A failure to recognize the fundamental importance of meeting workforce needs and providing adequate care for children will leave us all with a bleak future.
Working families are faced with economic, political and cultural obstacles. Among these are deepening economic disparity, women's primary role as caregivers, underfunded early and equal education, poorly paid and inadequately trained child care providers, and the pervasive commodification of childhood.
As our project progressed, we responded to these obstacles taking inspiration from landscape traditions exemplifying nature's power and from contemporary apocalyptic film. By evoking the power of catastrophic forces to overwhelm, we emphasize the extreme vulnerability of our children. We miniaturize these epic cataclysms, inviting the viewer to consider America's future course.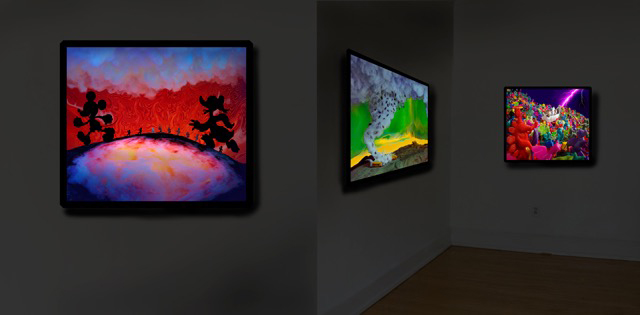 Images from Watch Me Grow 2016-18, backlit Duratrans 22 x 28 inches.

Childcares, 2018. Scrolling LED board, 8 inches x 36 inch, 4 minute program scrolling animated names of 99 childcares centers in Milwaukee, Wisconsin.
Initial support for this project was provided by the Economic Hardship Reporting Project.
*The Care Index, 2016. The Care Index draws on unique proprietary data from Care.com member job postings and caregiver reviews, as well as publicly available data from other organizations including the US Census Bureau, Bureau of Labor Statistics, the National Association for the Education of Young Children (NAEYC) and the National Association for Family Child Care (NAFCC).
---